Are the Highest Earning Footballer's Performances Justifying Their Weekly Wages?
5th September 2017
Whether you agree with it or not, footballers wages continue to rise year on year and the biggest stars are earning astronomical amounts every second. For example, by the time you've finished reading this article, Carlos Tevez will be over £500 richer. Have their recent performances managed to justify their huge wage packets?
Image Source: Twitter
Who are the highest earners in world football?
The aforementioned Tevez tops the list earning a staggering €730,000 a week, although the Argentinean forward hasn't featured for Chinese Super League outfit Shanghai Shenua recently due to an ongoing injury concern. The 33-year-old is closely followed by PSG's new recruit Neymar who is believed to be earning around €500,000, the same as his former team-mate Lionel Messi. Gareth Bale and Cristiano Ronaldo unsurprisingly take their place in the top ten whilst Ezequiel Lavezzi, Hulk, and Axel Witsel are all earning eye-watering salaries in China. Former Chelsea playmaker Oscar is also bringing home around €430,000 per week.
Are the highest earner's performances reflecting their income?
Cristiano Ronaldo, Lionel Messi and, to an extent, Gareth Bale are playing regularly enough to justify their salary whilst creating significant revenue through merchandise such as shirt sales and image rights. Barcelona posted their highest ever revenue back in July, clocking up €708 million and beating the likes of Manchester United and Real Madrid. This was up €28 million from the previous season. Messi's worldwide appeal will undoubtedly make up a significant slab of this income and, with the loss of Neymar to PSG, it's important that the club look after their star asset and pay him handsomely. Messi's performances on the pitch have consistently aided Barcelona and he recently notched his 350th La Liga goal when firing a brace against Alaves. His goals have kept the Catalan club in contention for domestic titles and UEFA Champions League glory over the last ten years and he is certainly justifying his salary.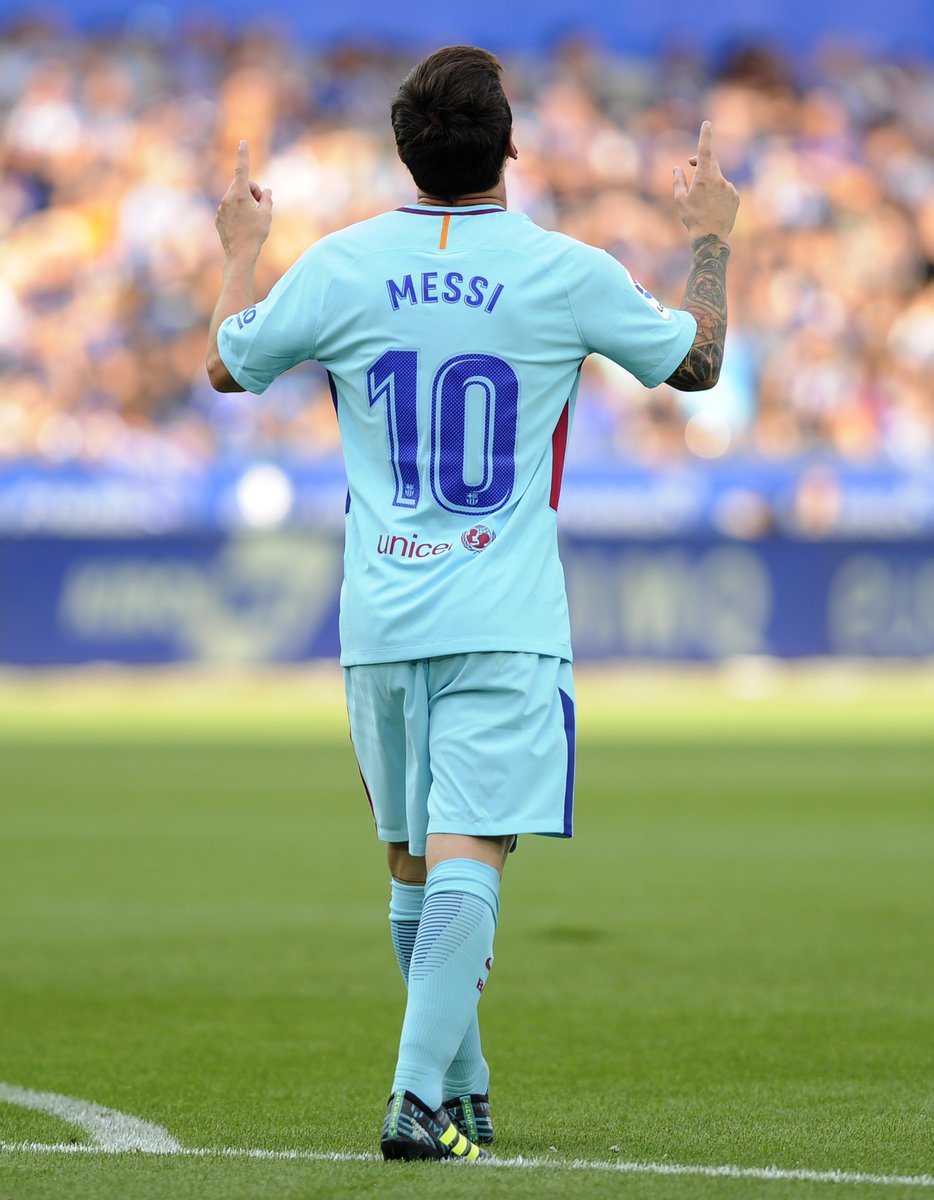 Image Source: Twitter
The aforementioned Neymar left the La Liga giants to sign for PSG over the summer, agreeing to a deal that nets the Brazilian a whopping €500,000 per week. This will equate to around €3,200 every hour. The deal also smashed the current transfer record set 12 months ago when Paul Pogba swapped Juventus for Manchester United. The transfer was eventually sealed at the beginning of August following months of protracted negotiation with the star who cost his new club around €450 million including wages. The deal may have taken plenty of time to materialise but, as English football's original super agent Jon Smith explains in an exclusive interview with Betway Insider, the majority of deals take around three or four months to conclude. Smith, who once represented Maradona, also explains that players should never directly tell clubs of their desire to leave as it's deemed as a transfer request, meaning they are likely to lose out on any signing-on bonuses. He also details why many negotiations, like Phillip Coutinho's ill-fated move to Barcelona, take months to develop and process; that's before factors such as image rights, overseas travel, housing, and bonus details come into play. Some players also need assurances over family members and even pets before they opt to relocate!
Which high earners are not pulling their weight?
Ezequiel Lavezzi struggled to adapt to his new surroundings after joining Chinese Super League outfit Hebei in February 2016 and failed to find the net in any of his first 10 appearances. However, the former PSG striker, who is earning around €460,000 a week, has found his stride and has scored 10 times in 14 appearances this campaign but his fellow Argentinean Carlos Tevez has not been so impressive. The former West Ham and Manchester United forward has scored just twice for Shanghai Shenhua and has had little impact on games since arriving in Asia. As one of the highest paid players in the world on €730,000 a week, the fans were expecting a lot more and there continues to be speculation surrounding his future at the club. Many fans at the club haven't warmed to him and he courted controversy after being spotted frequenting Disneyland whilst supposedly recovering from injury.
Axel Witsel left Zenit St Petersburg in January to join Tianjian Quanjian in a deal worth around €20 million. The Belgian midfielder is earning around €18 million a season which equates to around €350,000 every seven days. He started the season well, netting four times, but hasn't scored since mid-July and a dip in form has seen him left out of the squad for recent encounters with Yianbian and Changchun Yatai.
Image Source: Twitter
Some of the highest earners in football are priceless when it comes to image and the representation on the pitch. The likes of Lionel Messi and Cristiano Ronaldo are synonymous with their respective clubs and justify their pay packets by enticing new fans around the world into supporting Barcelona or Real Madrid. There have been a number of exciting additions in the summer transfer window and time will tell if PSG's new recruit Kylian Mbappe will prove good enough to justify his wages, which have increased by 900 per cent. Others, such as Carlos Tevez, are failing in justifying the outlay of their employers whilst the jury is still out on many of his fellow Chinese Super League recruits.
---
You Might Also Like
---